This post includes a brief plot summary and an explanation about the ending of the film Café Society (2016). Who is Vonnie in love with: Phil Stern or Bobby Dorfman? Beware of spoilers.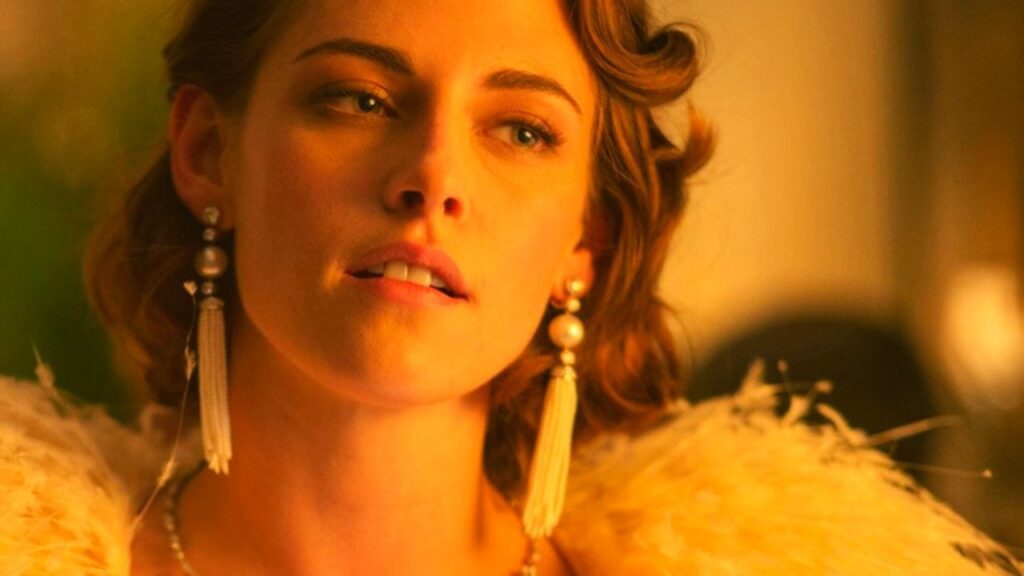 Directed by Woody Allen, the 2016 comedy drama stars Kristen Stewart as Vonnie and Jesse Eisenberg as Bobby.
Café Society (2016) – Plot Summary
A young Jewish man by the name of Bobby Dorfman quits his job as a jeweller in New York City and moves to Hollywood on a whim. His uncle is the well-know talent agent, Phil Stern. The man helps his nephew settle in the city and offers him a job. From now on, Bobby is running errands for his uncle. Meanwhile, Phil assigns his secretary (Vonnie) to help Bobby and show him around the city.
The more Bobby knows about Vonnie, the more he becomes infatuated. During a casual outing, Bobby holds Vonnie's hand but the young woman tells him that she already has a boyfriend. Turns out, Vonnie is dating a married man (Phil). Despite of knowing that she is in a relationship with someone else, Bobby does not give up and keeps finding opportunities to be with Vonnie.
On their one-year anniversary, Phil breaks up with Vonnie. The man finds himself unable to leave his wife. Heartbroken, Vonnie goes to Bobby's house to seek solace. Hearing that Vonnie is single again leaves Bobby in good spirits. After a while, Vonnie and Bobby become a couple.
During a casual chat with his uncle, Bobby reveals his intentions of marrying Vonnie and moving back to New York. After hearing his nephew's words, Phil reaches out to Vonnie. He wants his former mistress to leave Bobby and marry him instead. At first, Phil's plea leaves Vonnie quite confused but then, she accepts him back to her life and breaks up with Bobby.
A devastated Bobby returns to New York and begins working for his brother Ben, a prominent gangster. Together they run a high-end nightclub, which later becomes a famous hangout place for the rich and powerful.
At his workplace, Bobby meets a beautiful divorcée named Veronica Hayes. Shortly after, the two begin dating. After some time, Veronica informs Bobby that she's pregnant. So, Bobby proposes to Veronica and she accepts.
One night, Phil and Vonnie stop by at the nightclub and insist in seeing Bobby. Married Vonnie is a complete different person now. The woman has become the cliché that she once criticized. Seeing his former flame behaving in such manner leaves Bobby quite upset. Nonetheless, the man decides to meet up with Vonnie and show her the city. During their casual outings, the two reminisce about the past and feelings resurface. Bobby and Vonnie share a kiss at Central Park but agree not to go further than that.
Evelyn (Bobby's sister) tells Ben that her neighbour has been bothering her family. The gangster takes matters into his own hands and kills the man. Later on, the police arrests Ben for his criminal activities. Before dying at the electric chair, Ben converts to Christianity. Meanwhile, Bobby ponders the possibility of opening a nightclub in Los Angeles. During his stay, Bobby meets up with Vonnie again. After some thought, both decide to stop seeing each other.
During New Year's Eve, both Vonnie and Bobby are in different parties with their respective spouses but none of them seem to be truly enjoying the occasion. Instead, both share a distant look in their eyes.
Café Society (2016) – Ending Explained
The ending of Café Society is sort of open for interpretation. By the look of the two leading characters during the New Year's party, some might think that they are somehow unhappy in their current relationships. However, Café Society is not a tale about regret. The film chooses to focus instead in the relentless passage of time.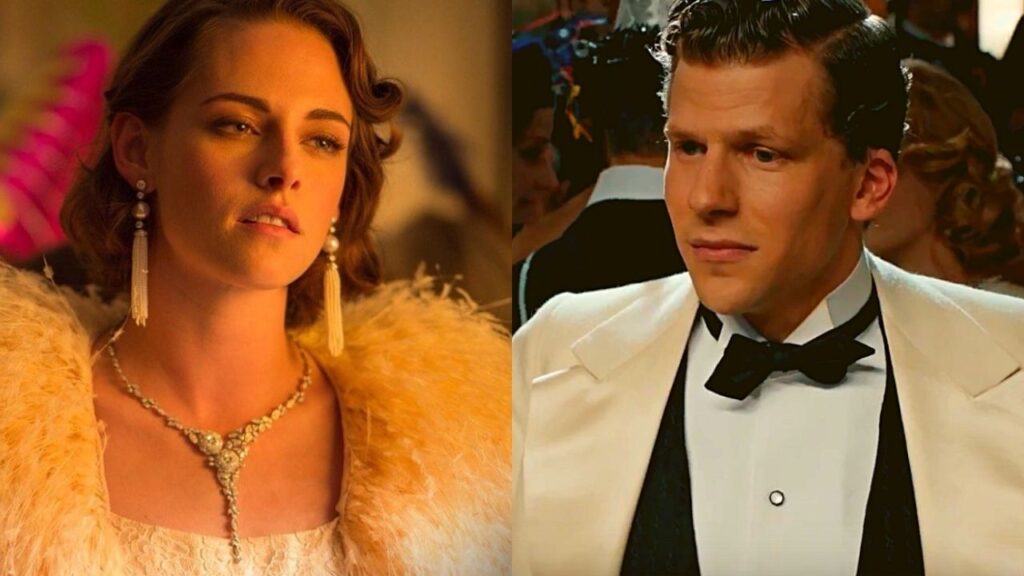 At the end, Bobby and Vonnie don't end up together because of the life choices that they've made. But before moving further, let's talk about Vonnie. Who does she really love: Phil Stern or Bobby Dorfman?
If Vonnie really loved Bobby, she would've married him. Instead, Vonnie dumped Bobby to be Phil's wife. So, why is she all up and giddy again whenever she's around Bobby? Here's the thing, Vonnie is a liar. That might seem a little harsh on Vonnie but let's look at how she has been lying… mainly to herself.
When Vonnie first met Bobby, she took great pride in not being "Hollywood" but then, she married Phil and everything changed. The once seemingly down-to-earth girl that Bobby loved, has become a pretentious name-dropper living a cushy life thanks to her rich and powerful husband Phil Stern. No wonder, Bobby looked at her with distaste. He must be wondering who is this woman that I once thought about marrying?
Actually, in this story, Bobby is no saint either. First, he actively pursued Vonnie despite of knowing that she already had a boyfriend at the time. Then, when Bobby heard that Vonnie was single again, he did not hesitate and shoot his shot. For a moment, the two dated briefly but then Bobby loses Vonnie again to his uncle Phil.
Heartbreak pushes Bobby to move back to New York, where he becomes a successful nightclub manager. The business allowed Bobby to climb up in the social ladder. In a way, he himself also became the ultimate cliché by marrying Veronica, his stunning trophy wife.
After the many twists and turns in their lives, both Bobby and Vonnie climbed up the social ladder. Maybe it wasn't something that they had in mind, but they are definitely enjoying the ride. Although, Bobby and Vonnie are living comfortably, they also have their own struggles / existential problems. For instance, both still have feelings for each other but don't allow themselves to go any further because it will mess up their current lives. After all, "dreams are just dreams".
So is there a point to Café Society? There isn't a moral lesson in Café Society. However, there is something that the film emphasizes a lot: the relentless passage of time. One could look back in time and reminisce about it, but life itself goes on and follows its own course. So, whatever Bobby and Vonnie had together, it belongs to the past. Splitting from their current spouses to be together does not make sense, because they are not exactly unhappy. Both are just wondering about the scenario in which they chose to be together, hence, the distant and bittersweet look in their eyes.
Final Thoughts
Café Society is not one of Woody Allen's most notable works but it's still a very pleasant watch. The film itself doesn't have any moral lessons attached to it, but it does give out the impression that people always want what they cannot have. For instance, Vonnie was in love with Phil when he was still a married man. Then, Phil ran back to Vonnie when he found out that his nephew was about to propose to her. By the way, it was Phil the one who broke up with Vonnie first. The same cycle repeats when Vonnie and Bobby see each again while being married to other people.
As one can see, the characters in Café Society are far from being perfect, but that's what makes them interesting to watch. Having said that, the audience will judge Vonnie and Bobby according to their own personal biases. For instance, I myself thought that Vonnie was a hypocritical liar.
When Bobby met Vonnie, he thought that she wasn't like the other Hollywood girls living in Los Angeles. However, Vonnie is that girl, she just didn't have enough money to live that kind of lifestyle. As a coping mechanism to hide her own personal frustrations, Vonnie made fun of the rich that lived in those nice Beverly Hills houses. Guess what? She's now one of them thanks to her husband Phil. Money doesn't change people, it reveals their true colours.
Now, don't get me started on Bobby. I believe he's pretentious and entitled. So, Bobby prides himself in being a New Yorker, yet he moved to Los Angeles to find himself or get a new start (whatever that means). He went there without a plan nor a job. Actually Bobby's plan was to rely on his rich uncle Phil to give him a job. That alone, already screams privilege.
Was there any character that I actually felt sorry for in Café Society? Yes: Veronica, the trophy wife. On the surface, Veronica seems to be the whole package, she's physically stunning and her personality is also charming enough to get whoever she wants. However, her marriage to Bobby was more an impulse decision more than anything else. In addition, the way how Bobby treats Veronica really irks me. In my opinion, Bobby is just trying to substitute Vonnie with Veronica. Settling real fast with Veronica was essentially Bobby's way of giving the middle finger to Vonnie for dumping him.
Although, the breakup between Vonnie and Bobby was sort of amicable, it certainly left a very bitter taste in Bobby. Now here's a quick question: would Vonnie reminisce about her past with Bobby if he wasn't such a big shot now? That really makes you think, doesn't it? Why did Vonnie choose Phil over Bobby? Let's not forget that Phil was the one who broke up with Vonnie before he begged her to come back.
Logically speaking, Phil was a better candidate than Bobby because of his status. Let's look at this way, Phil Stern is a well-known talent manager in Hollywood, meaning that he has money and connections that can make him even more money. In other words, Phil is the type of man that can give Vonnie a very comfortable life, if she decides to marry him. Now, let's look at Bobby at the time. When Bobby was living in Los Angeles, he was slowly getting more job opportunities thanks to how well connected his uncle was. However, he was no where near the status of his uncle.
Café Society might not be as mesmerizing as Midnight in Paris or provocative like Match Point, but it has its own charm. Kristen Stewart and Jesse Eisenberg deliver warm performances as Vonnie and Bobby. As always, the visuals are on point, which was something that I already expected, given it's a Woody Allen film. There is a very dreamy vibe to the film which evokes the feeling of nostalgia and highlights the relentless passing of time. Overall, Café Society is a very fun watch.