For those of you who don't know who Bridget Jones is, she is the infamous spinster from the 2001 film: "Bridget Jones's Diary". Today's post contains a brief plot summary and a detailed character analysis of Bridget Jones. So, is she a good female role model or not?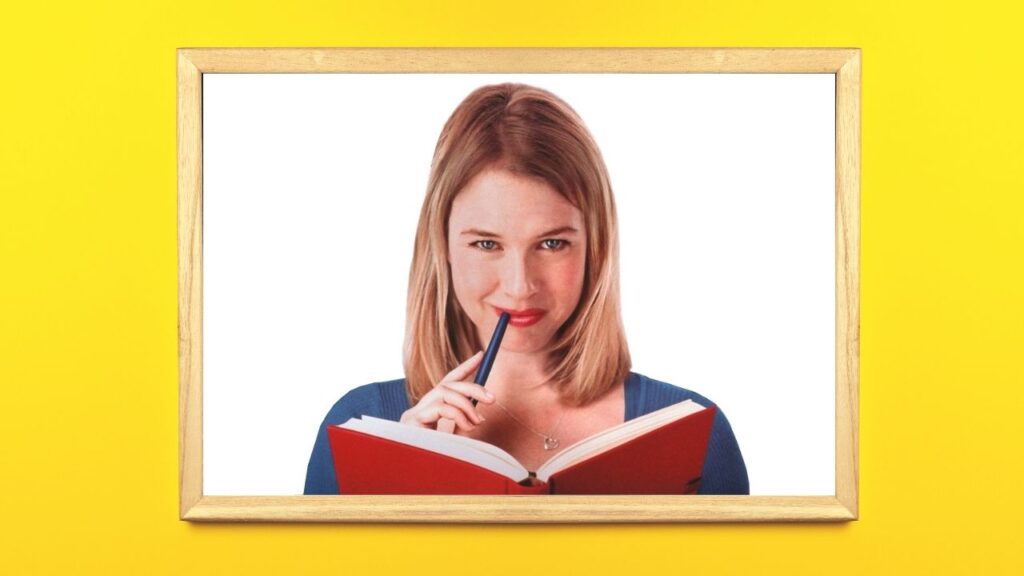 Directed by Sharon Maguire, the 2001 romantic comedy is based on a 1996 novel of the same name written by Helen Fielding. The film stars Renée Zellweger as Bridget Jones, Colin Firth as Mark Darcy and Hugh Grant as Daniel Cleaver. Today's post is solely based on the film, not the novel.
Here's a little recap of the film, for those who don't remember the plot very well.
Bridget Jones's Diary (2001) – Plot Summary
Single and in her thirties, Bridget Jones attends her parents' New Years' Party. There she meets Mark Darcy, a lawyer (and a childhood acquaintance). Although both of their parents are trying to match them up, Bridget and Darcy don't seem to get along (at all). At the party, Bridget overhears a conversation between Mark and his mother: he doesn't have a very good opinion of Bridget.
Fed up with Mark's mean remarks, Bridget decides to get her life together. Therefore, on New Years' Eve, Bridget sets some new goals for herself: she's going to quit her vices (smoking and drinking), work on her image (lose weight) and find herself a boyfriend (Mr. Right).
At work, Bridget's crush for her boss (Daniel Cleaver) intensifies. During a book launch event, Bridget bumps into Mark and his colleague Natasha. Later that evening, Daniel and Bridget have dinner together. While talking to Daniel, he reveals that Mark slept with his fiancée and ever since then, they no longer talk to each other. Shortly after, Daniel and Bridget start dating.
Daniel invites Bridget for a weekend getaway. During their stay at a country inn, Bridget and Daniel bump into Mark and Natasha again. The plan was to attend a party together, but Daniel decides to leave at the last minute to take care of some work related issues. Bridget ends up attending the party alone, disguised a playboy bunny. As a romantic gesture, Bridget decides to return to London and surprise Daniel by showing up at his apartment. But she stumbles upon a rather sticky situation: Bridget finds out that there is another woman (Lara) at her boyfriend's place. Infuriated, Bridget decides to break up with Daniel and quit her job.
Bridget eventually lands a job as a reporter. Daniel pleads Bridget to stay, but she refuses. While attending a friend's dinner party, Bridget realizes that she is the only single person in the room. Once again, Bridget stumbles upon Mark and Natasha. During a private conversation, Mark confesses his feelings for Bridget. As a token of his affection, Mark lets Bridget interview him: Mark is now a well-known lawyer working on high profile case. After the interview, Bridget reconsiders her opinion about Mark.
A couple of friends and Mark gather together for Bridget's birthday party. The night runs smoothly until Daniel decides to show up: drunk and trying to seek Bridget's attention. Bothered by Daniel's presence, Mark leaves the party. But then, he returns to challenge Daniel for a fight. After scuffling in the streets, the two men call it a draw. When no one was looking, Daniel starts to whisper some mean words to Mark, which leads his opponent to knock him down. Unaware of the reasons behind the fight, Bridget criticizes Mark for using violence.
During a conversation with her mother, Bridget finds out that Daniel lied to her: Mark did not sleep with Daniel's fiancée it was the other way around. Regretful, Bridget reaches out to Mark and confesses her feelings for him. However, the man is leaving the country: Mark has landed a job overseas. After the fiasco, Bridget's friends invite her for a trip to Paris. However, just when the group was about to leave, Mark appears.
Bridget invites Mark to her apartment. While she goes to her room to change her underwear, Mark finds Bridget's old diary. When she returns to the living room, Mark is no longer there. Bridget realizes that Mark has read her old remarks about him and deduces that he left out of anger. Desperate, Bridget runs outside trying to find Mark but to no avail. On her way back, she finds Mark holding a new diary as a sign that he wants a "fresh start". Relieved, Bridget runs to Mark and they share a deep kiss.
Bridget Jones – Character Analysis
Who is Bridget Jones? She is a single woman in thirties looking for Mr. Right. In order to get her life together and find her man, Bridget decides to make a couple of changes regarding her appearance (weight) and lifestyle habits. Although, she writes those goals down, it's still rather questionable whether she manages to achieve them or not.
One thing is for sure: Bridget doesn't enjoy being single. Not only that, but Bridget also feels a certain pressure to have someone in her life. In other words, Bridget is trying to find love and look less "out of place" as a spinster. In a way, Bridget doesn't know how to free herself from what society expects her to do.
When it comes to men, Bridget Jones doesn't always make the best decisions. That becomes really obvious when she starts dating Daniel Cleaver, who is her boss and a well-known womanizer. For some strange reason, Bridget decides to ignore all the red flags that say: this man is no good for her. However, this woman eventually learns and realizes that she can do better than Daniel.
Breaking up with a womanizer, shows that Bridget still has some respect for herself. This means: Jones won't sacrifice her values just for the sake of dating someone who she thinks is really hot. When Bridget found out that Daniel was cheating on her, she did not hesitate to break up with him and find a job elsewhere. Smart move, because Bridget needs to remove the toxic people out of her life and move forward. The gig after the breakup wasn't the best, but at least, it was able to support her financially while she looks for better job opportunities. A smarter move would have been to never get involved with people like Daniel Cleaver. However, what's the point of crying over split milk?
Moving from Daniel Cleaver to Mark Darcy was definitely a come up for Bridget. Although Mark is not a man of many words, his actions speak louder than anything else. But most importantly, Mark's feelings for Bridget are genuine. However, having the love of a good man is not going to solve all of Bridget's problems because she has a lot of baggage.
At this point, it's clear that Bridget is not the sharpest person that you'll ever meet, but she has a kind heart and she means well (most of the time). Bridget knows that she needs to change in order to do better in life, but her reasoning behind is kind of lame. Why? She's making all her New Year's resolutions based on her desire to find Mr. Right. Now, why didn't Bridget Jones think of quitting her unhealthy habits (drinking and smoking) for herself? If Bridget loved herself a bit more, maybe she wouldn't be struggling so much in getting a good man.
So what's the final verdict? Is Bridget Jones a role model or a hot mess? She's definitely not a role model. Bridget is too obsessed with men (or finding a man) and her appearance. It's okay to have this desire of losing weight or being healthier, but doing it just to capture someone's attention? Not worth it. Instead of flirting with her boss, Bridget should be figuring out what to do next, in terms of her life and career. But let's not be too harsh on this lady. Jones is not a bad person, neither is she a messed up person. Bridget Jones is human, that's the best word to describe her.
Final Thoughts
Although I'm not a big fan of romantic comedies, Bridget Jones's Diary is definitely a classic in this particular genre. The film is very enjoyable to watch and it has a timeless story that hits all the clichés.
Why is Bridget's Jones's Diary (the film) so popular? The book had already a substantial following and many deemed it as a critical and a commercial success. Therefore, it would make sense that readers wanted to see the characters come to life in a motion picture. However, I do not think the film would have experienced that amount of success if it wasn't for the trio: Renée Zellweger, Colin Firth and Hugh Grant. The actors gave amazing performances which made their characters "real".
On the surface, Bridget Jones (the character) is kind of ridiculous. First, the woman has horrible taste in men. Of all the men in world, why did she choose to flirt with her own boss? To make matters worst, why did she decide to date a well-known womanizer? Second, Bridget's career does not seem to be going anywhere but also, she does not seem to care. Third, this woman obsesses too much about her weight and her underwear. So there is really nothing about Bridget that makes her look or sound like a collected individual. Nonetheless, Bridget is still a person. That said, Renée Zellweger gave Bridget Jones the humanity that the character needed. Instead of turning Bridget into a pariah, Renée made her relatable.
Although published more than two decades ago, Bridget Jones's Diary still resonates. Maybe not every single woman is desperate to get herself a partner but the expectation (from society) is still there. Fun fact: the author (Helen Fielding) based a lot of her book on "Pride and Prejudice" (Jane Austen's novel).
The world has become more advanced. Nonetheless, when it comes to relationships many still follow the "old rules". It's not uncommon to hear that people "wanting" the following things in life: getting married, building a family and buying nice house. Now, do they really want? Or are they just following what someone told them is the right thing to do? In my opinion, Bridget Jones's Diary is relevant till this day and hence, it deserves the place that it has carved for itself in pop culture. On a final note, everyone should watch the film at least once in their life, even if they are not into romantic comedies.